The construction industry is forecast for a strong bounce back next year as new opportunities appear in warehousing & logistics, office, and retail refurbishment, fit out, and the repurposing of redundant commercial premises.
New opportunities are set to emerge over the next three years as the construction industry recovers from the economic slowdown and structural changes that are undermining current workload.
The underlying value of construction starts (projects with a construction value of less than £100 million) are expected to improve in the coming months, but 2023 will still be down by 18% compared to the previous year according to Glenigan's latest construction industry forecasts.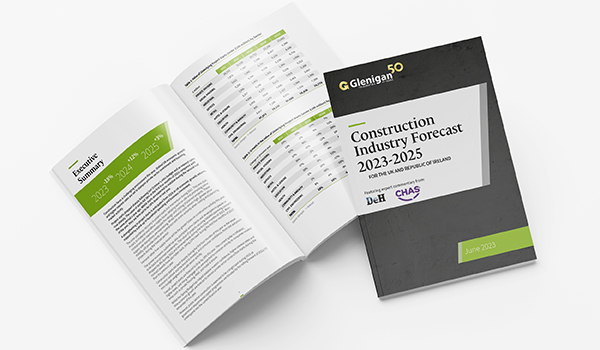 Glenigan's economics director Allan Wilén comments: "Renewed construction growth is forecast for 2024 and 2025 as a strengthening UK economy lifts consumer and business confidence. Improved household spending and consumer confidence are expected to feed through to increased activity in consumer-related areas.
"There will be a rise in office refurbishment work as premises are remodelled to accommodate a shift in post-pandemic working practices, while an increased growth in online retailing will provide a catalyst for renewed investment in logistics facilities from 2024."
Near term opportunities
In the near-term, public-sector investment will provide the greater opportunities as workload in consumer-related areas such as private housing, retail, and hotel & leisure are constrained by the current high rate of inflation, higher taxes, and rising mortgage costs.
This contraction will be partly offset by an estimated £4.9 billion underspend by government departments during the last financial year. This underspend is expected to fuel a rise in government investment this year according to the Office for Budget Responsibility.
Mr Wilén adds: "Public sector construction is expected to be a bright spot during 2023 as government departmental capital programmes are boosted by the rolling forward of 2022/23 underspend into the current financial year."
"Increased government funding is expected to drive the education, community & amenity and health sectors, although departmental budgets are likely to be reviewed post-election, potentially slowing sector activity during 2025."
Public sector pipeline
The education sector will experience the highest rate of growth this year with an 18% increase in the value of underlying starts. The Department of Education's capital funding is set to grow by 19% during the current financial year to help meet a commitment to rebuild 500 schools over the next decade.
Funding of £456m was recently approved for refurbishment works to 859 academies, sixth-form colleges and voluntary aided schools through the 2023/24 Condition Improvement Fund (Project ID: 23164992).
Growth in the health and community & amenity sectors is expected to materialise next year with increases in underlying starts of 13% and 17% respectively.
Mr Wilén adds: "NHS investment is a high political priority and a 3.8% per annum real-term growth rate in NHS capital funding is set to support a rise in starts."
The Department of Health's £20bn New Hospital Programme was relaunched recently (Project ID: 19342017). Dubbed Hospital 2.0, the programme includes a swathe of major schemes such as the £1.7 billion redevelopment of Paddington Hospital, which could start in 2024 according to Glenigan's construction market research (Project ID: 20152714).
Positioned for growth
From 2024, the private sector is expected to start generating more opportunities. The underlying value of starts in the industrial sector are forecast by Glenigan to boom by 20% next year, fuelled by growth in the warehousing & logistics sub-sector.
Mr Wilén comments: "Although online retailers have lost some of the market share gained during the pandemic, as consumers have returned to high streets and retail parks, the longer-term shift towards online retailing is expected to support continued demand for more logistics space."
Major warehousing & logistics schemes identified in the construction pipeline by Glenigan's industry analysis include a £500m railhead and logistics hub at Ravenscraig in Scotland (Project ID: 20477628) and the £410 million Humber International Enterprise Park in Hull (Project ID: 18299084).
Underlying starts in the office sector are forecast to leap 20%, boosted by refurbishment and fit out work. The repurposing of redundant premises, such as a proposed £200m redevelopment of the St Enoch shopping centre in Glasgow into a mixed-use development of retail, flats, and office (Project ID: 21414454), will also provide openings.
Planning change
With house prices sagging, workload in the residential sector is suffering but changes to the planning regime, while initially hitting volume housebuilders, may also produce an upside in other areas.
Mr Wilén explains: "Changes to the planning regime threaten to reduce the supply of development land for the residential homeownership sector over the medium term, especially outside urban areas, and adversely impacting the delivery of low-rise family housing.
"However, reform of leasehold property regulations together with post-Grenfell safety regulations may improve purchasers' enthusiasm for new apartments. This may increase competition with build-to-rent developers for high-rise city centre sites."
Glenigan's construction industry research has identified a swathe of major build-to-rent developments in the early stages of the planning pipeline which are set to boost workload in the months and years ahead.
These proposals include a £330m proposal for 929 units at Goldsworth Road in Woking (Project ID: 16159821) and a £500m plan from Gatehouse Bank and TPG Capital to build 2,500 two, three and four-bedroom houses across a number of locations in England (Project ID: 21367902).
Growth in build-to-rent and improved consumer confidence are also expected to help push overall private housing starts back up again, with a rise of 7% next year and 8% in 2025.
Regional shift
Regionally, construction markets in the northern half of England are forecast to outperform London and southern England up to 2025, which reflects a shift in government funding and policy towards 'levelling up'.
The government is pumping £4bn into the Levelling Up Fund (Project ID: 20469842) and a total of £2.3 billion was shared amongst schemes in the second round alone (Project ID: 23018031).
Applicants for grants in the £1 billion third round have been identified and will start to benefit from next year (Project ID: 23085448).
Making plans
Structural changes are creating new opportunities in different sectors and regions to boost the industry as the recovery grows.
Mr Wilén concludes: "Firms will need to target these new and shifting opportunities, ensuring that they have the expertise and resources to increase their exposure to growing markets and locations."
For the industry, now is the time to position for the rebound.